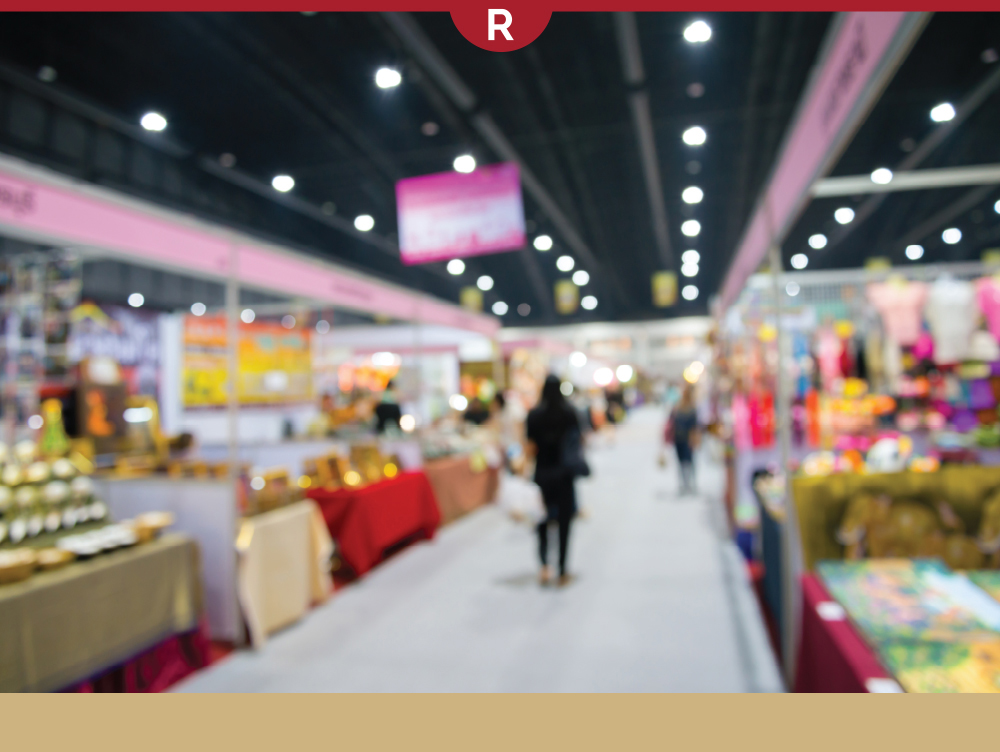 Creating the Perfect Trade Show Booth
Networking through trade shows has been a popular practice in retail for a long time, but with a changing retail climate comes improvements and advancements in how vendors present their products. Since trade shows can be extremely beneficial, our visual merchandisers want to ensure you are fully educated and inspired to create an unforgettable display. We have created a list of visual merchandising products that are frequently purchased by vendors preparing a trade show, and have provided a few things to remember when creating a trade show booth:

1. Attractive Display
Visual merchandising isn't just important in store, but also when representing your brand. Potential customers are going to be drawn to colorful, interactive and organized displays and this is easy to do! Choose a color scheme that represents the brand and highlights the products, and use bold signage to stand out. Make sure to include your logo in multiple places (it is recommended to use a custom display).

2. Variety of Products
You obviously want to display your most notable and top products, but you also want to display items that are different or even items that compliment each other. Displaying an array of products will not only show the versatility of your brand, but will also attract a wider variety of customers. If your company focuses on one key product, consider offering branded merchandise during the trade show.

3. Giveaways
One of the best parts about trade shows is the free stuff. Vendors can take advantage of giveaways by giving away products from their own brand, or at least products with their logo on it (key chains, pens, etc.). Offering a giveaway or free item is a sure way to attract possible customers, to get them excited about your booth and to start conversations.

4. Incorporate Technology
Technology can be the bridge between an attractive display and an interesting display. Innovative technology can be implemented into your booth in a variety of ways. The most common is the digital sign- where you can completely customize your presentation by showing tutorial videos, showing a slideshow or by displaying your logo in a big way. Some other ways to utilize technology is to use an iPad for orders and for contact information, to play music over a speaker, or even to enhance your booth with lighting effects.

5. Be Memorable
Through proper execution of the tips mentioned above, your trade show booth will be successful and busy. Since trade shows offer multiple vendors, products and individuals to multiple customers, it can be difficult to keep them all organized mentally. Beyond custom displays, the best way to stand out is to have a face-to-face conversation and provide them with a business card. Additionally, following up with a friendly email after the show is a great way to be remembered.

Finally, have fun! Trade shows are a great way to meet other retailers and to spread awareness about your brand and products. Connecting with potential customers and other industry members is crucial in the retail world, and it can be a memorable event. Be proud of the products you are promoting, and show genuine interest in other vendors' products. Don't forget to smile!

The visual merchandisers at Retail Resource are committed to providing quality store supplies and the latest retail tips and trends. For our full catalog, visit www.retailresource.com or call 1-800-762-8186 for a free quote.